Whether you're moving across town, across the state or country, or internationally, Schaap Moving Systems has the experience and know-how to make it happen smoothly. From packing the most fragile items to moving your largest and heaviest furniture, Schaap professional movers can provide all the services you need.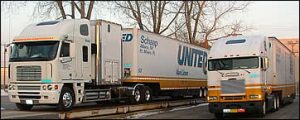 As a United Van Lines agent, Schaap Moving Systems is backed by one of the world's largest and most respected moving companies in the world. We track where your possessions are and know when they'll safely arrive.
Begin by contacting our move coordinator, who will assign a representative to visit and determine just what your needs are. Our representative will be able to analyze what equipment is necessary, the manpower required, and how long your move will take. A free, no-obligation estimate of the cost will be provided, along with valuable information about moving.
If for some reason your move requires storage, Schaap Moving Systems can provide a safe and secure environment.